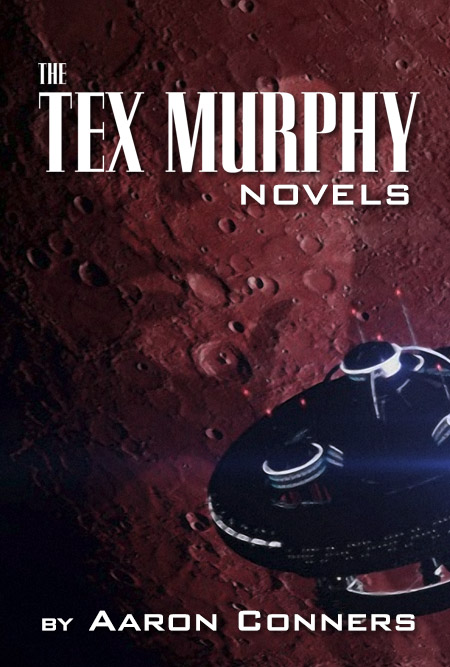 Tex Murphy Novels
Available Platforms
Release Date
1994-2021
Developer
Publisher
Aaron Conners
The Tex Murphy novels written by Aaron Conners provide a much deeper insight into the Tex Murphy stories, exploring the characters, locations and themes with greater depth. They are the perfect accompaniment to the games, greatly expanding the Tex Murphy universe.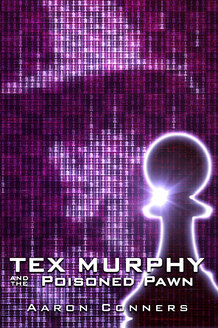 Tex Murphy and the Poisoned Pawn
It's November 2050 and Tex Murphy has just returned to New San Francisco after wrapping up his previous case, Tex Murphy and the Tesla Effect, where he gets a rude welcome. Apparently, someone wants him dead…for no apparent reason. The question is who? Count St. Germain, a mysterious traveler who Tex met in his previous case, is certain it's someone from Tex's past.
 
Over Tex's thirteen-year career, this low-profile, perpetually-destitute detective has played a crucial role in several potentially world-changing events. St. Germain suspects that this hasn't happened by accident; a "Man Behind the Curtain" has made Tex an unwitting pawn in an unknown game. And it all goes back to his very first case.
 
Together, they return to the events of 2037: Carl Linsky had just taken a dive off the Golden Gate Bridge…an apparent suicide. His daughter was sure he'd been murdered and would do anything to prove it. Tex would do anything to make rent.  At first, the case seems like a literal dead end. But it soon leads Tex into the heart of a dark secret, created by a shadowy group of people who are all turning up dead under mysterious circumstances.
 
With St. Germain's unique assistance, Tex digs deep into his past, recounting the story of his first case, remembering details that were forgotten or seemed unimportant at the time, and searching for the thread that connects all his cases, in hopes of revealing the identity of his most dangerous adversary.
A shocking discovery awaits about what happened all those years ago…and how those events are about to change Tex's future.​

The second Tex Murphy novel: updated and expanded!
"Under a Killing Moon" was a ground-breaking video game released in 1994. It won many awards, including "Best Fantasy Role Playing/Adventure Game" from IGN and "Adventure Game of the Year" from the Software Publishers Association. Computer Gaming World ranked it in the Top 100 video games ever made and Adventure Gamers named it one of the top 25 Adventures of All-Time.
I was approached by Proteus Publishing after the release of the game. They loved the story and were interested in releasing a novelization. I was very happy to oblige because my original story was heavily edited for the game. For this reason, the story in the novel is significantly different in many ways from the story in the game.
So what's the story about?
It's December 2042 and Tex Murphy, the last of the old-style PIs, has hit rock bottom. A run of tough luck forced him to relocate to the seedy side of town. Then his wife ran off with the guy Tex hired to reupholster his furniture. Now he's left with no money, no prospects and no dignity…just some nicely-reupholstered office chairs and one last bottle of cheap bourbon.
When Tex is hired out of the blue by a rich dowager, it seems too good to be true. A priceless statuette has been stolen from her. Getting paid to recover it may be just what Tex needs to get back on his feet. And it does…until the rug gets pulled out from under him.
Tex's search for the missing statuette leads him through the shadowy back streets of post-apocalyptic San Francisco and into a labyrinth of deceit, manipulation and murder. Who, or what, is the 'Moon Child'? Is there any truth to the rumors that an ancient evil, foretold by prophecy and worshipped by a centuries-old blood cult, has mysteriously reawakened? And can Tex stay sober long enough to pick up the pieces and put them together to solve the most dangerous puzzle of his life?
The world needs a hero to stand against the forces of evil. Unfortunately, it will have to make do with Tex Murphy. And he'll need all his P.I. instincts and every ounce of Murphy savoir faire to stop the ominous prophecies before they become a terrifying reality…and rob him of his next unemployment check.
The first Tex Murphy novel: updated and expanded!
"The Pandora Directive" was written as a novel back in 1995. It was adapted into a video game of the same name, which won numerous awards, including "Adventure Game of the Year" from Computer Gaming World and the Software Publishers Association. Recently, it was named one of the top 15 "Adventures of All Time" by Adventure Gamers.
The original novel was published by Proteus and released in several languages, including Russian, German and French. This new edition features a (slightly) new title, new artwork (designed by Bjorn Ottesen), expanded and updated story content, an author's note and a foreword by Chris Jones, who co-created the video games and played the role of Tex Murphy.
So what's the story about?
It's April 2043 and the seedy side of post-World War III San Francisco is a radioactive dive, but P.I. Tex Murphy calls it home. With business slow, money tight and the women in Tex's life shipping out, this private dick is singing the lonesome gumshoe blues. Until one night at the Brew & Stew diner…
A mysterious old gent hires Tex to find a friend who's gone missing. It doesn't seem like much of a case at first, but with a generous retainer of cash and Cubana cigars, that's fine by Tex. Unfortunately, he's never been very good at staying out of trouble and it doesn't take long for him to find some. There's a drop-dead gorgeous nightclub singer who may end up just plain dead…a serial killer who supposedly committed suicide a year earlier…and a package sent from the missing man, containing a Chinese puzzle box that no one can seem to open.
Tex finds himself in the middle of one of history's greatest conspiracies. Secrets that have been locked away for almost a century are about to be revealed. Why now, after so many years? What does the puzzle box contain? Why is the most powerful agency in the U.S. government hunting down the missing man? And can Tex find him before they do?
The stakes are high, the deck is stacked and, as always, Tex Murphy is low on chips. But with his excellent bluffing skills and occasional lucky streaks, he just might have a fighting chance. Pandora's Box has been reopened. Can Tex close it before it's too late?
The Tex Murphy saga continues with an all-new novel!
This story has been waiting to be told for a long time. Originally, this was one of three adventures intended to be sequels to Under a Killing Moon and The Pandora Directive, starting back in 1996. In typical Tex Murphy fashion, things didn't work out quite as planned. But, even though the last Tex Murphy video game was released in 1998 and the last novel was published in 1995, Tex's loyal legion of fans never gave up hope. Now, after sixteen long years, the story finally continues…
Thanks to the support and generosity of Tex Murphy fans around the world, a successful Kickstarter campaign helped to finance a new Tex Murphy adventure. I contributed the story to the new video game, "Tesla Effect", and then, while the game was in development, set about writing the novel to tell the original story I've kept locked away for all these years.
With the success of the game and the renewed interest in Tex Murphy, I am looking forward to telling the final two long-lost stories as well. One will pick up from the end of The Pandora Directive and reveal the exciting events that happened prior to Tex Murphy and the Tesla Effect. The other will continue the story that comes after, leading up to Tex's last ride into the sunset.
So what about the story in this novel?
It's June 2043 and things are finally looking up for Tex Murphy, P.I. He just solved the biggest case of his life (so far) and actually got paid for it. After a romantic dinner with the lovely Chelsee Bando, Tex is in love, out of debt and on top of the world. What could possibly go wrong?
Then Tex wakes up, disoriented and head pounding, on the fire escape outside his office/apartment at the Ritz Hotel. Soon after, he discovers that all his memories since that night with Chelsee have been erased. But why? And who was behind it? The rival P.I. who was doing surveillance on Tex's office and turns up murdered? One of the mysterious characters racing to find a priceless collection of Nikola Tesla's documents and lost inventions? Or the shadowy organization that's made a fortune in cryonics – freezing (and, rumor has it, reanimating) dead bodies?
Tex Murphy, the last of the old-school gumshoes, is on the case for himself this time. Motivated by lost love, revenge and the world's strongest coffee blend, Tex will need every bit of his questionable social skills, relatively quick thinking, blind luck and the ol' Murphy charm. Only by investigating his own past can Tex hope to regain his memory in time to solve the mysteries of the past and present and prevent a devastating future.
About the Author
Aaron Conners was born and raised in the back woods of Maine by a family of bears. To this day, he enjoys chairs, porridge and a bed that feels "just right". He grew up in a time when you could play outdoors and go out exploring all day long. When it was dark or raining, he devoured (figuratively) piles of books – the Hardy Boys, Sherlock Holmes, Stephen King, History, anything about Baseball – and created board games about everything from military battles to fantasy quests to sports.
After an uninspired stint at the University of Slacking Off of Utah, Aaron was on track for a career as an English Lit teacher/Baseball Coach when a friend invited him to come work at Access Software, where they were just getting into "Interactive Movies". Despite Aaron's complete ignorance of computers, the friend thought Aaron would be perfect for writing and designing these new story-based games. After a brief incubation period in Tech Support – where Aaron learned how to turn on a computer and, later, insert floppy disks – he was introduced to Chris Jones and, soon after, they were collaborating on what would become Under a Killing Moon.
Would you like a signed / dedicated copy of Aaron's books?
Head on over to Aaron's website (AaronConners.net) and you can request an order for a signed or dedicated copy of any of this books.